Finding a Great Manufacturer for Architectural Steel Structures
Do you have an artistic vision for a metal structure, but lack the equipment and skills to make it a reality? Maybe you need to replace a metal part from a large structure that is no longer sold or needs to be replicated. Architectural steel structures can be strikingly beautiful and unique, or simply functional and load bearing.
Whether you need creative architectural steel design that is engineered with a purpose in mind, or a replacement piece or structure for a decorative metal roof, you should seek out a company that has expertise in working with a huge variety of different types of metals.
Some architectural structural steel fabricators are focused solely on one metal type or medium, but if you find a custom manufacturer who can partner with you from design to delivery, the entire process can be more collaborative and seamless.
Architectural Steel Structures for Public Use and Private Residents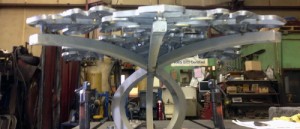 A unique architectural structure can dress up a back yard with an interesting canopy, provide cover for outdoor music events, or make up an interesting and functional piece of art in a park or on a building facade.
The Right Materials for Metal Architectural Structures
Depending on the weather and the intended use of an architectural steel structure, the materials selected will affect everything from the number of steps in the manufacturing process to the longevity of the structure. The right custom manufacturing team will listen to the expectations of the finished product and find solutions that will work.
Some Things to Consider for an Architectural Steel Project:
Purpose of the Steel Structure
Does it need to be conducive to having good acoustics?
Are parts of it going to be load bearing?
Is it simply for creative visual effect, or does it have a purpose for shelter, etc?
Finished Size of the Architectural Steel Structure
Will it need to be built in place or moved in pieces?
Potential Weather Damage and Climate Effects in the Environment
What type of metal will hold up to the weather?
What is the best type or finish?
Placement of the Steel Structure
How should it be secured in place?
Does it need to be designed so it does not block a certain view or path?
There is a lot to take into account when you are trying to bring a large artistic or functional steel structure from a plan on paper to a tangible creation. When you are ready to start your project, you will want to know that the custom manufacturing company that is working for you will put their best effort forward and have the ingenuity to provide the best solutions.
If you have a metal project that requires expertise about the best type of metal to use, and creative metalwork design and engineering, Barnes Manufacturing is up to the task. Call today to discuss the scope of your architectural steel structure and would be happy to partner with your company or city from design to delivery.