Eye-catching public artwork spruces up a community and helps create interest in parks and government buildings, so having a custom fabrication company that knows the goals and image your community is trying to create is imperative. Create a public partnership with a metal manufacturer who understands your community vision, will listen to your community's needs and will guide the process of creating metal projects, both large and small, in order to help your board stay under budget for projects of all sizes.
Partner with a Custom Manufacturer to Complete Community Projects
Whether your community is providing signage for a trail system, decorative benches to spruce up the downtown and give the people of the area a place to enjoy, or a larger metal structure that is both functional and unique, giving community residents and tourists something adding interest to the community draw people to common areas. From unique looking amphitheaters to metal shelters to even planters to add color to the downtown sidewalks, your community can stand out if you tie beauty and creativity to a great place for the community to gather.
Figuring out the budget and the scope of the project might take time and the expertise of the people who have skills to make the project a reality.
Adjustments to make Public Art Fit the Budget
Sometimes an initial bid will come in to high, but if you work with a custom manufacturer you trust, there are changes that can be made to bring the costs down. For instance, changing the size or scope of the project slightly, using more affordable metals or different finishes, or even splitting it into phases if that is possible. A good custom manufacturing company will look at the project and find the best options for the community or board members to consider, without harming the overall quality of the finished metal project.
Go Back to the Manufacturers You Trust to do What is Right
If you have had good experiences working with a custom manufacturer for community projects, it might be worth asking for their ideas of how to save money on the project, without cutting corners that will risk losing quality and longevity on the project.
Integrity is an important quality in a custom manufacturing company. If you have a relationship with a custom fabricator, and you know that they will help you make the best decisions during the project planning phase and you work well with them, you may find that other companies will not meet your standards.
Make Sure You Are Comparing Apples to Apples for Project Bids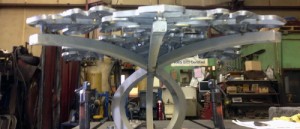 If there is any portion of the project that is left to a guess in the bidding process, you may not be comparing apples to apples. Even if they came in with a higher estimate, initially, they may have seen the scope of the project as larger than the competitor, or they may have bid with different materials in mind, which can affect the cost.
Partnering with a trusted manufacturer company that cares about your metal project, whether it is a large architectural steel project or a few little park benches or unique metal planters will ensure a product that is aesthetically pleasing and will be a great addition to the community for years to come.