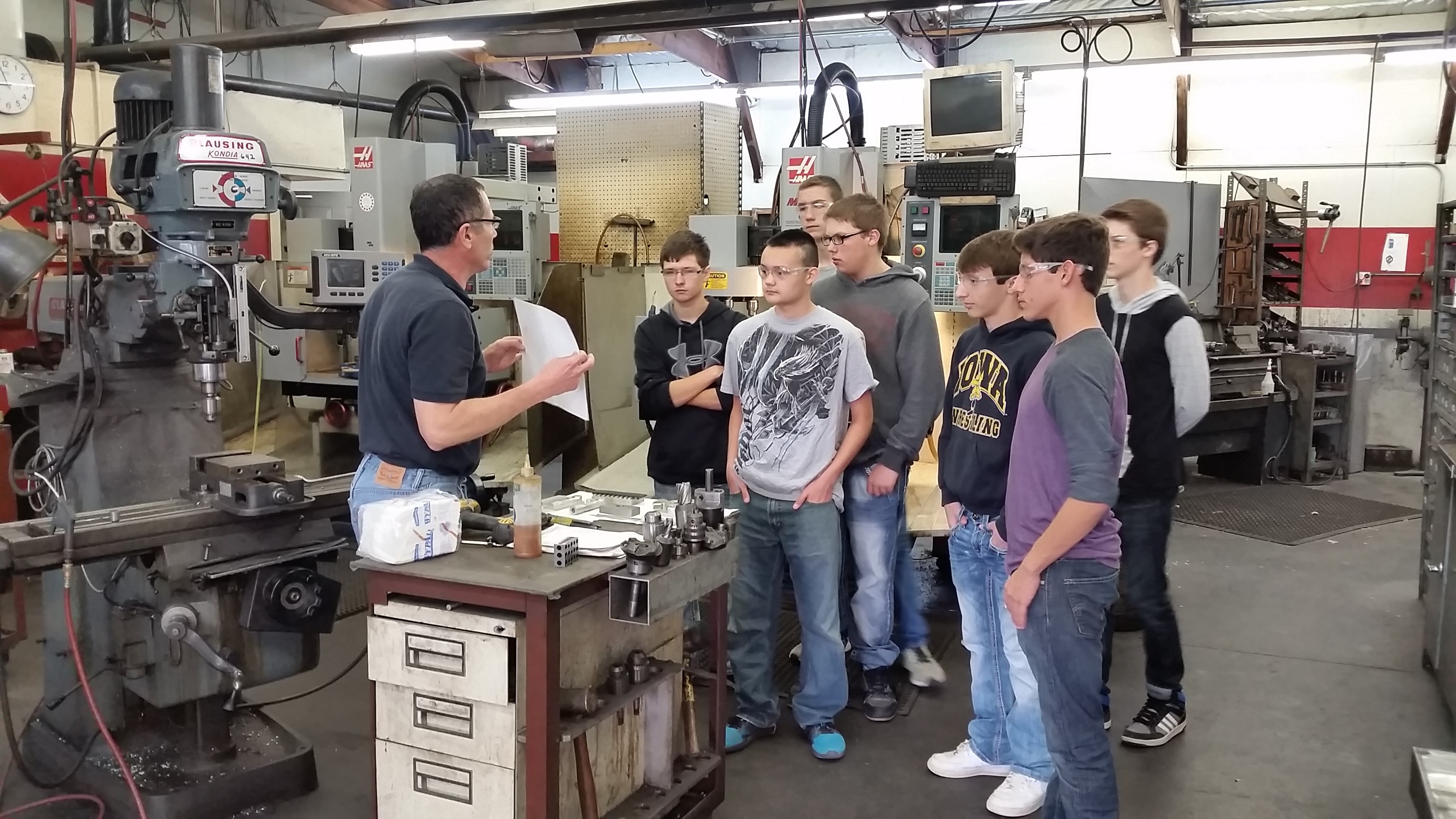 Community College and Machining Companies Show Students Need for Skilled Trade
You can't push a square block into a round hole, much like you shouldn't force a student who succeeds in creating things toward a career where they will not have the opportunity to push the limits of their creativity. High school students of the last generation were driven toward four year colleges, academic majors, and Master's degrees, and away from skilled trades and manufacturing careers like machining, welding and mechanics. Kirkwood Community College has partnered with Eastern Iowa machine shops and welding companies to introduce students to skilled trades earlier.
Fifteen companies manufacturing companies in Iowa's Creative Corridor participated in the 2015 Advancing the Future: A Tour of Corridor Manufacturers. They opened their doors to high school high school students who participate in shop classes, and some invited the public in to find out more about the careers they offer and services they provide.
Many Paths to Success that Include Skilled Trade 
Kirkwood has been feeding the workforce at Barnes Manufacturing Services for decades, and the talent that can come out of the Cedar Rapids community college is superb. The problem is that so many kids with natural talent toward the skilled trades are pushed toward four year degrees, and many of these kids get out of school and cannot find a decent job. They end up at a call center for $9, but if more of those who are geared toward skilled trade would go to trade school for welding, CNC Machining, mechanics, or auto body repair, they could get out of school and land a job for more than $15 an hour.
Is Pushing Kids Toward Academia a Mistake?
High schools take pride in a 95% enrollment of students to 4-year colleges, and while life-long learning and further education is important, a bachelor's degree is not always the answer to getting a good job. Allowing a student to choose his / her path and learn skills where their interest are will likely give them a feeling of achievement that will allow them to succeed at a higher level.
Changing the Way America Defines Success to Include Skilled Trade
The old way of thinking that defines success as a 4-year degree and a job that involves spending most of your time at a computer needs reconsideration. There is a lot of skill required for machinists, mechanics, electricians and welders, especially in math. Much of the equipment is computer operated and some machines require a certain amount of programming.
In companies like Barnes Manufacturing, where custom manufacturing and welding is the norm, employees are expected to have problem solving abilities. Their ideas are welcome and appreciated because every employee is an important part of the team with special talents that help the company serve client more effectively.
There will Always Be Skilled Trade Jobs
While factory jobs have largely been shipped over sees and will continue to move from one country that has cheap labor to the next, skilled trades like machining and mechanics will always exist in America and the Iowa has the advantage of a central location. People will always need custom machining for larger items, and cars and machinery will always need to be repaired or modified.
Freight costs alone would be more than it is worth to ship overseas for cheap labor and convenience is always a factor in getting machining and mechanical work done. Houses and buildings will always need to be built on site. With the current lack of skilled trade employees, all of these career paths are paying a respectable wage, and for those students who are hands-on learners, the possibilities are endless.